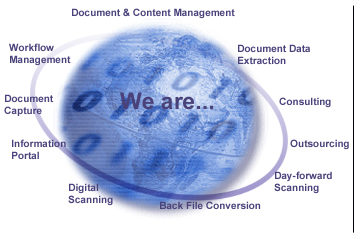 " A Value-Centric Imaging Solution Provider."
FutureTech creates high business value for clients through an enlightened combination of technology and expertise. We deliver content/knowledge management solutions unique to your business needs.

We have the resources and the ability to:

Analyze business processes and recommend the right imaging solutions using industry best practices

Recommend and implement document and data capture solutions

Recommend and implement document storage / workflow solutions

Provide onsite/offshore back file conversion services

Provide onsite/offshore day forward conversion services

Provide document web hosting solutions
Click here to subscribe for the newsletter and simply click on send button of your outlook.